Hi all…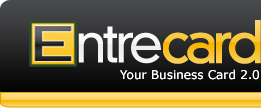 I've been trying out EntreCard for the last few days on my other site — Lair of the Green Knight — and I have to admit that my traffic has increased. And I've had a few additional comments from some of those who have stopped by. The comments were via the EntreCard site, but it's still something…
You can see the rise in my RealRank over the last 7 days because my visitors and page views have risen as a result of spending some time with EntreCard. We'll see if the trend continues, but if nothing else it's expanding my community of bloggers. I've talked to a number of folks via e-mail for blogs that I probably wouldn't have found except through EntreCard.
So we'll take the good with the bad for now. It certainly can't hurt.
How have other folks done with the EntreCard system? Has it helped or hurt? Let me know!
–Fitz