Hey all…
Was looking for gift ideas this weekend and stumbled upon an article in the Laptop Magazine Gadget Gift Guide for 2007 (available on news stands now) about the One Laptop Per Child (OLPC) program and their Give 1 get 1 program.

This is a great nonprofit organization dedicated to place a laptop (the XO laptop shown here) in the hand of every child in the developing world. This would help even out the disparity between developed and developing countries in the education received.
From November 12 to November 26 this year, folks in the US and Canada can purchase two laptops — one for you and one for a child in the developing world. How cool is that!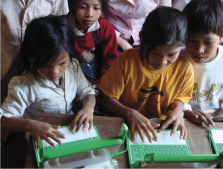 Here's the information from the XOGiving website:
Starting November 12, One Laptop Per Child will be offering a Give 1 Get 1 Program for a brief window of time in North America. For $399, you will be purchasing two XO laptops—one that will be sent to empower a child to learn in a developing nation, and one that will be sent to your child at home.
I encourage anyone looking for a laptop for their child who wants to make a difference in the world to look into this great program and see what you can do. I hope to do the same!
Thanks!
–Fitz